muf is an internationally recognised practice whose work is a collaboration between art and architecture – simultaneously pragmatic and endlessly ambitious.
Projects range from urban design schemes to small-scale temporary interventions via landscapes and buildings – a continual dialogue between details and strategy. Interested in the design of public spaces, and in making spaces public, muf engage with, and build on, the capacity of local communities to deliver high quality and sustainable outcomes.
muf are the only UK winners of the European Prize for Public Space and were the authors of the British Pavilion at the Venice Biennale in 2010, where they continue to collaborate. From their studio in East London they have worked on many projects local to their practice, as well as abroad, including urban strategies in the cities of Pittsburgh, Cologne and Gothenburg.
As a studio, muf's approach is open-ended, process driven and experimental – unafraid to challenge any client who thinks design is done and dusted early on in a project. Every project contains an element of unsolicited research.
Dedicated to creating shared public spaces for more than one (fragile) thing at a time, their work has been recognised internationally, nationally and locally by the Mies Van der Rohe Prize, Swiss Prize for Architecture, RIBA, Housing Design Awards, New London Awards, Landscape Institute and Hackney Design Awards.
muf architecture/art was established in 1995 and has never had less than 80% female members, including founding partners Katherine Clarke and Liza Fior.
muf is an accredited Living Wage Employer and a member of the Disability Confident employer scheme. The studio has also committed to the Mayor's Fund for London's Diversity Pledge.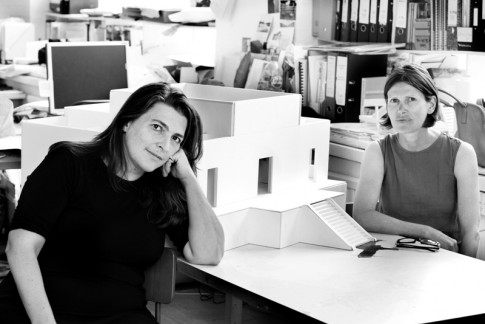 Clients
muf have worked for The City of London and other London local authorities including Hackney, Tower Hamlets, Southwark, and Barking and Dagenham. They are on the Mayor of London's Architecture and Urbanism (A+U) framework for Lot 1 – Spatial policy, Urban Strategies and Research; and Lot 4 – Landscape, Green Infrastructure and Public Realm.
muf's recent and current clients include English Heritage, CrossRail, the Church of England, the Victoria & Albert Museum, the Barbican and Guildhall School of Music and Drama, the Science Museum, the Forestry Commission, Tate Britain, the National Trust, Arts Council England, the Royal Academy, and the British Council.
Prizes and Awards
2023
Royal Town Planning Institute London Chair's Award for Excellence in Planning (Young Hackney Eastway Sports Hub)
Diversity in Architecture Award (nominee)
2022
New London Awards Wellbeing Prize winner – Hackney Eastway
Ruskin Square selected for European Public Space Prize – muf architecture/art with J & L Gibbons
2021
Design in Mental Health Award for art installation – Oh My GOSH, You're Wellcome… Kitten at Welcome Collection, muf with The Vacuum Cleaner and GOSH Arts
2018
RIBA National Award 2018 (Kings Crescent Estate with Karakusevic Carson and Henley Halebrown)
RIBA Regional Award, London (Kings Crescent Estate with Karakusevic Carson and Henley Halebrown)
New London Awards, Mayor's Prize (Kings Crescent Estate with Karakusevic Carson and Henley Halebrown)
2012
Swiss Architecture Prize (nominee)
2011
muf: Public Realm Architect of the Year (BD Architect of the Year Awards)
J&L Gibbons with muf (Making Space in Dalston): Landscape Institute President's Award
Barking Central, Public Realm Architect: RIBA Award
2010
Eastern Curve (Making Space in Dalston): Hackney Design Award
Leysdown Rose Tinted, Rosa Ainley and muf architecture/art: Arts and Health Award
Mies Van der Rohe Prize (nominee)
2008
Barking Town Square: Winner of European Public Space Prize 2008
Mies van der Rohe Prize (nominee)
2007
Whitecross Street: The Islington Society Architecture and Conservation Award
2003
Camden Arts Centre: Art for Architecture Award
2000
Hypocaust Building Competition: St Albans City and District Council
muf: Jane Drew Prize shortlist
"Where others might mouth platitudes about social inclusion, or regeneration, or legacy, or public realm, they want to find out what they actually mean and realise them in practice."
Rowan Moore, Observer
"Their advocacy for the benefits of public space is critical in an increasingly unequal city, a message that is both profoundly political and utterly necessary. The group is making space for the city to be able to hold on to its humanity, without which it is no longer a city."
Edwin Heathcote, FT
For press enquiries or images please contact: press@muf.co.uk